April 30, 2008
April 29, 2008
April 28, 2008
April 27, 2008
First Ever Cat Blugging
I have an important experience to share with anyone who has a cat.
Did you know cats could become diabetic? I didn't, until it happened to my parents' cat, Muppet. Here's a recent picture of him, protecting their household from something hiding under the covers:
I feel responsible for him because I picked him up off the streets of New York in 1996, and he lived with me for a while before I sent him off to board with my parents in a more congenial environment. He was almost full grown in 1996, so he's probably 13 years old now. He was diagnosed as being diabetic last December.
It was difficult not to be depressed by this. Beyond the dangers of the disease, he would, according to their vet, probably have to get two insulin shots every day on a tight schedule for the rest of his life. The shots part was a drag for him. The tight schedule part was a drag for my parents, because it meant they would have to arrange their lives around doing this. Everyone's quality of life took a big dip.
But poking around online, I found a site called Your Diabetic Cat. It's set up by Elizabeth Hodgkins, a vet in Southern California. Hodgkins says that feline diabetes is a completely man-made phenomenon, and in most cats can be quickly reversed through proper diet. You can read Your Diabetic Cat for details, but her main point is that cats' digestive systems aren't made to handle much carbohydrate—yet dry foods all have tons of carbohydrate filler that easily overwhelms an older cat's pancreas and makes them diabetic. However, if you put diabetic cats on an all-meat high-protein diet, the cat's blood glucose levels quickly return to normal and they usually can be completely weaned off insulin.
Based on my parents' experience with Muppet, Hodgkins is completely right. Their vet didn't know anything about her views, and initially gave them a prescription dry food for diabetics. This had carbohydrate filler, and Muppet's glucose levels remained much too high.
Then they switched him to all-meat wet food. You'd think this would be expensive, but it's not—it turns out many generic supermarket brands have no added carbohydrates and are great for diabetic cats. You just have to carefully check the five-point type listing the ingredients.
The all-meat diet worked very, very quickly. His insulin dose had to be reduced within days, and after a week he had to be taken off insulin completely, because his glucose levels were getting dangerously low. Since then his glucose levels have been completely normal. He's also thinner, happier and more energetic. Given the outlook when he was diagnosed, this has been a big, happy surprise for my parents.
So based on this experience, I advise you to listen to Elizabeth Hodgkins. (ADDED: In consultation with your regular vet, of course.) If your cat becomes diabetic, there's a lot of hope they can be cured. And, at least according to Hodgkins, you can prevent it from happening in the first place by never giving your cat dry food, especially when they're older.
Here's another picture of Muppet, who feels so strongly about this issue that it exhausted him and he had to sleep for five hours to recover: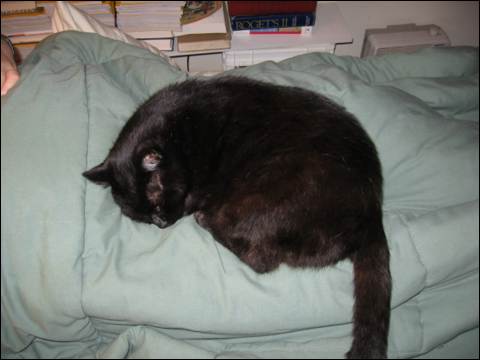 —Jonathan Schwarz
April 26, 2008
April 25, 2008
April 24, 2008
April 23, 2008
April 22, 2008
April 21, 2008
April 20, 2008
April 19, 2008
April 18, 2008
April 17, 2008
April 16, 2008
April 14, 2008
April 13, 2008
April 12, 2008
April 11, 2008
April 10, 2008
April 09, 2008
April 08, 2008
April 07, 2008
April 06, 2008
April 05, 2008
April 04, 2008
April 03, 2008
April 02, 2008
April 01, 2008