You may only read this site if you've purchased
Our Kampf
from
Amazon
or
Powell's
or
me
• • •
"Mike and Jon, Jon and Mike—I've known them both for years, and, clearly, one of them is very funny. As for the other: truly one of the great hangers-on of our time."—Steve Bodow, head writer,
The Daily Show
•
"Who can really judge what's funny? If humor is a subjective medium, then can there be something that is really and truly hilarious? Me. This book."—Daniel Handler, author,
Adverbs
, and personal representative of Lemony Snicket
•
"The good news: I thought
Our Kampf
was consistently hilarious. The bad news: I'm the guy who wrote
Monkeybone
."—Sam Hamm, screenwriter,
Batman
,
Batman Returns
, and
Homecoming
May 20, 2011
"Without Fear or Favor. NOT!"
This is one of the most interesting things I've ever heard about politics and the media—both in itself and because I'd never heard of it until right now. And considering how much media criticism I've plowed through in my life, that suggests almost no one else has heard of it either. It really goes to show how all the most important history just evaporates, leaving nothing behind but a sticky residue of self-congratulatory goo.
As you know if you're the right class in the U.S., the glorious reign of the New York Times began in 1896 when Adolph Ochs bought it and published a manifesto about the standards the Times would henceforth uphold: they would now "give the news impartially, without fear or favor, regardless of party, sect, or interests involved." Ever since then, the paper's thankfully been in the hands of a family with the highest ethical standards. (The current publisher is Ochs' great-grandson.) The phrase "without fear or favor" is so much a part of media culture that it gets used as the title for books, documentaries, essays, articles and more.
Here's the whole paragraph:
It will be my earnest aim that The New-York Times give the news, all the news, in concise and attractive form, in language that is parliamentary in good society, and give it as early, if not earlier, than it can be learned through any other reliable medium; to give the news impartially, without fear or favor, regardless of party, sect, or interests involved; to make of the columns of The New-York Times a forum for the consideration of all questions of public importance, and to that end to invite intelligent discussion from all shades of opinion.
Impressive!
But here's what they don't tell you at Stutts or anywhere else in America: that wasn't the end of Och's proclamation.
Here's the next paragraph:
There will be no radical changes in the personnel of the present efficient staff. Mr. Charles R. Miller, who has so ably for many years presided over the editorial pages, will continue to be the editor; nor will there be a departure from the general tone and character and policies pursued with relation to public questions that have distinguished The New-York Times as a non-partisan newspaper — unless it be, if possible, to intensify its devotion to the cause of sound money and tariff reform, opposition to wastefulness and peculation in administering public affairs, and in its advocacy of the lowest tax consistent with good government, and no more government than is absolutely necessary to protect society, maintain individual and vested rights, and assure the free exercise of a sound conscience.
So it's funny that Ochs stated so bluntly that "We will be completely impartial, except for our intense devotion to this long list of issues." But what's significant is that these issues are all right-wing economic obsessions—in 1896 and today. Then and now, rich creditors ferociously guard against inflation that will cause their assets to lose value (while moderate inflation is generally good for the economy overall and for debtors, who are the majority). Then and now, the right ferociously opposes taxes and any sign that the majority is going to use the government as a tool to improve their lives.
Ochs just announced straight up that the New York Times was going to be a standard-issue upper class conservative newspaper. And "history" has not just forgotten it completely, but used the exact same proclamation to congratulate the New York Times for being completely impartial. Thanks, liberal media!
If you want to read Ochs' words in their original form, see below or get it directly from the New York Times website here.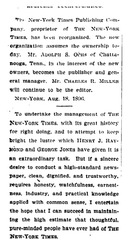 (Thanks to Brooke Gladstone of On the Media for pointing this out in her new book The Influencing Machine.)
—Jonathan Schwarz
Posted at May 20, 2011 03:26 PM