You may only read this site if you've purchased
Our Kampf
from
Amazon
or
Powell's
or
me
• • •
"Mike and Jon, Jon and Mike—I've known them both for years, and, clearly, one of them is very funny. As for the other: truly one of the great hangers-on of our time."—Steve Bodow, head writer,
The Daily Show
•
"Who can really judge what's funny? If humor is a subjective medium, then can there be something that is really and truly hilarious? Me. This book."—Daniel Handler, author,
Adverbs
, and personal representative of Lemony Snicket
•
"The good news: I thought
Our Kampf
was consistently hilarious. The bad news: I'm the guy who wrote
Monkeybone
."—Sam Hamm, screenwriter,
Batman
,
Batman Returns
, and
Homecoming
May 19, 2011
The Road to Armageddon
Scattered through all the articles celebrating how we shot bin Laden in the face, I've seen sentences here and there that make me feel I'm going to read them again in about ten years...in a book looking back at how in 2017 one of Pakistan's nuclear weapons was smuggled into Chicago and detonated.
Anger simmers in Pakistani army over bin Laden raid

As Pakistan's powerful military leaders seek to overcome extraordinary public criticism following the killing of Osama bin Laden this month in a Pakistani garrison city, they are also facing seething anger in barracks across the country...most of it is directed toward the United States...

Pakistani army chief Gen. Ashfaq Kayani made town-hall-style appearances last week at five garrisons across the country, where he faced barbed questions from officers about the raid, according to some who attended. After a 45-minute address to the 5th Corps in the southern port city of Karachi, Kayani took queries for three hours. Attendees said questioners focused on the perceived affront in Abbottabad — and why Pakistan, in the words of one officer, did not "retaliate."

In a meeting Sunday with visiting Sen. John F. Kerry (D-Mass.), Kayani relayed the "intense feelings" of the rank and file, according to a two-sentence military statement...

"It's never good for a military of that size to have a feeling of resentment," retired Lt. Gen. Talat Masood, a security analyst, said...

Pakistan should "immediately suspend cooperation with the U.S.," said one officer in Pakistan's north, who, like others interviewed, spoke on the condition of anonymity because he was not allowed to speak publicly. "In the lower ranks, anti-Americanism is at its highest."...shame and fury within the military is evolving into deeper antagonism toward the United States, an ally already suspect among all ranks, Muhammad said.
This is the same feeling I get reading about the would-be Times Square bomber Faisal Shahzad. He seems like the Ramzi Yousef to a Mohammed Atta of the future. But no one even cared about this at the time: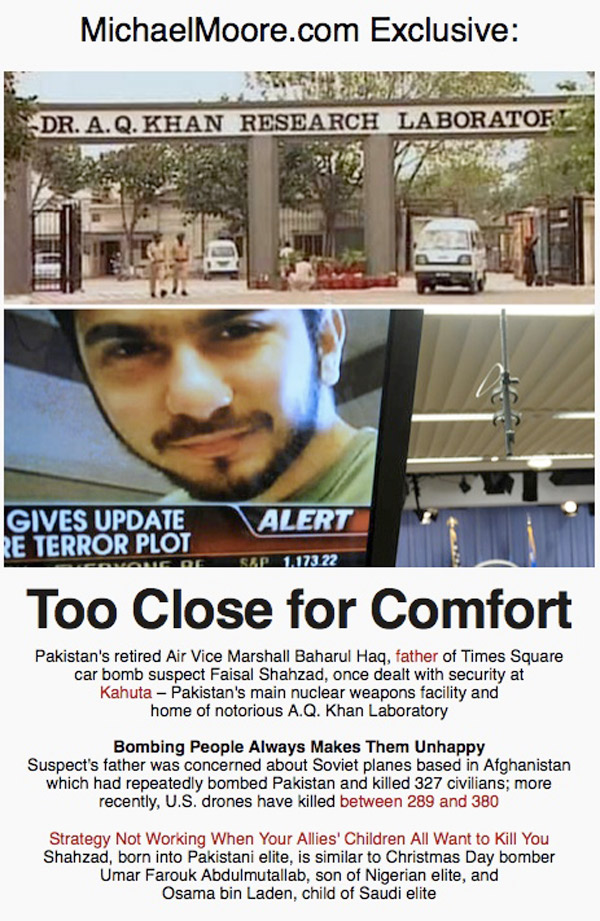 Of course, what will bring about Armageddon won't be nuclear terrorism in a U.S. city; after all, two Japanese cities got obliterated and Japan's still there. The Armageddon part will be our response.
—Jonathan Schwarz
Posted at May 19, 2011 11:22 PM