You may only read this site if you've purchased
Our Kampf
from
Amazon
or
Powell's
or
me
• • •
"Mike and Jon, Jon and Mike—I've known them both for years, and, clearly, one of them is very funny. As for the other: truly one of the great hangers-on of our time."—Steve Bodow, head writer,
The Daily Show
•
"Who can really judge what's funny? If humor is a subjective medium, then can there be something that is really and truly hilarious? Me. This book."—Daniel Handler, author,
Adverbs
, and personal representative of Lemony Snicket
•
"The good news: I thought
Our Kampf
was consistently hilarious. The bad news: I'm the guy who wrote
Monkeybone
."—Sam Hamm, screenwriter,
Batman
,
Batman Returns
, and
Homecoming
March 18, 2010
All Is For the Best
By: Seth Ackerman
Yesterday, Brad DeLong posted this graph without comment: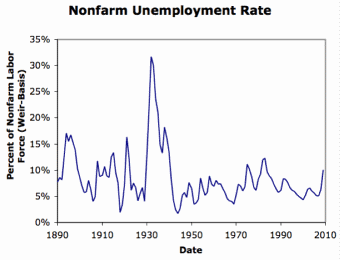 I guess in the grand scheme of things, unemployment right now isn't all that bad.
Except that - hey, what's with the legend along the left side of the graph? "Percent of non-farm labor force"? Don't we usually talk about the unemployment rate as a percentage of the total civilian labor force, not the non-farm labor force? (Yes, we do.)
Fortunately, the economic historian David Weir, the source of Brad's data, produced unemployment estimates using both definitions. Even more fortunately, they're conveniently available via Cambridge's Historical Statistics of the United States, which you need a subscription to, via a fancy university such as Stutts .
The graphs below show Weir's unemployment rates reported both ways. Weir originally published his data only up through 1990, so I've added in a horizontal bar showing today's current unemployment rate of about 9.7%:
Yup. Pretty bad. Pretty world-historically bad.
So, how should we construe these two different unemployment definitions? What's the difference? Well, a hundred years ago agriculture accounted for a much bigger portion of the labor force – about a third. So not only was a large segment of the population relatively sheltered from the labor market, and thus immune from unemployment, but if you did get thrown out of work, you might be able to return to the old homestead and make ends meet there for a while. Nowadays, you probably can't. The magic of the market is all we have.
As helpfully explained in the interpretive essay on unemployment data included in Historical Statistics of the United States:
Unemployment is the condition of someone who is willing and able to work but who cannot find employment. For the self-employed, there is always something to do, even in slow times. Unemployment, therefore, presupposes a class of workers who are dependent on wage or salary earnings for their livelihood. Even as late as 1900, only about two thirds of the labor force were wage and salary workers.
The essay goes on to reference Alexander Keyssar's pioneering study of the early history of American unemployment:
Early production of manufactured products took place within an agricultural setting in which any reduction in industrial employment could be offset by reallocating labor into some alternative sphere. The appearance of modern unemployment, in [Keyssar's] story, required the abandonment of agriculture for full-time industrial work.
So there you have it. Sorry for being so long-winded to make a fairly straightforward point. I just didn't want to see Brad's graph become the basis for some Frankenstein talking point.
—Seth Ackerman

Posted at March 18, 2010 12:52 PM