You may only read this site if you've purchased
Our Kampf
from
Amazon
or
Powell's
or
me
• • •
"Mike and Jon, Jon and Mike—I've known them both for years, and, clearly, one of them is very funny. As for the other: truly one of the great hangers-on of our time."—Steve Bodow, head writer,
The Daily Show
•
"Who can really judge what's funny? If humor is a subjective medium, then can there be something that is really and truly hilarious? Me. This book."—Daniel Handler, author,
Adverbs
, and personal representative of Lemony Snicket
•
"The good news: I thought
Our Kampf
was consistently hilarious. The bad news: I'm the guy who wrote
Monkeybone
."—Sam Hamm, screenwriter,
Batman
,
Batman Returns
, and
Homecoming
November 20, 2007
30 Rock: Funny
It's not often I see jokes on sitcoms and think: HOLY CRAP I WISH I'D WRITTEN THAT. But it happened several times in last week's episode of 30 Rock.
#1: Tina Fey's character has convinced herself her Middle Eastern neighbor is a terrorist, and wants to turn him in. But she's worried about seeming racist. As she wanders the streets thinking about it, she sees the (real) bus stop ad which says:
IF YOU SEE SOMETHING
SAY SOMETHING
Then she walks a little further, and sees another bus stop ad, which says:
IF YOU SUSPECT ANYTHING
DO EVERYTHING
I think I'll make that the new motto of this site.
#2: Alec Baldwin's character is at a fancy event, standing at the bar next to an attractive woman he doesn't know:
ALEC BALDWIN [to bartender]: I'll have a white rum with diet ginger ale and a splash of lime.

WOMAN: Wow. I never would have pegged you for a University of Tennessee sorority girl.

[WOMAN exits]

BARTENDER: Sir, here's your "Nancy Drew."

ALEC BALDWIN [looking offended]: For men it's called a "Hardy Boy."
O that is fine writing. The episode is credited to Kay Cannon & Tina Fey, although the way sitcoms work, these jokes could be the work of anyone on the staff. Perhaps it was the very funny Tami Sagher.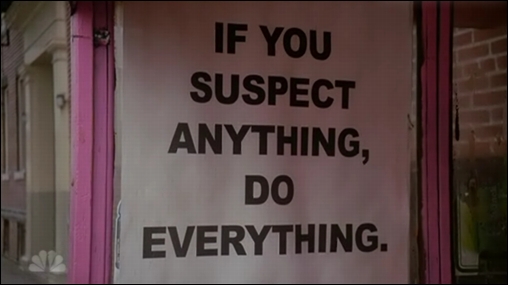 Posted at November 20, 2007 09:26 PM | TrackBack