You may only read this site if you've purchased
Our Kampf
from
Amazon
or
Powell's
or
me
• • •
"Mike and Jon, Jon and Mike—I've known them both for years, and, clearly, one of them is very funny. As for the other: truly one of the great hangers-on of our time."—Steve Bodow, head writer,
The Daily Show
•
"Who can really judge what's funny? If humor is a subjective medium, then can there be something that is really and truly hilarious? Me. This book."—Daniel Handler, author,
Adverbs
, and personal representative of Lemony Snicket
•
"The good news: I thought
Our Kampf
was consistently hilarious. The bad news: I'm the guy who wrote
Monkeybone
."—Sam Hamm, screenwriter,
Batman
,
Batman Returns
, and
Homecoming
November 04, 2007
Greeted With Flowers
(Read this even if you've already seen the similar post yesterday.)
As everyone remembers, Dick Cheney said just before we invaded Iraq that we'd be "greeted as liberators." According to Bob Woodward's book Plan of Attack, Bush and Cheney's thinking had been influenced by a meeting with exiled Iraqis, in which one said "People will greet troops with flowers and sweets."
Cheney was still standing by this view last year. And Christopher Hitchens says he witnessed it himself:
The welcome that I've seen American and British forces get in parts of Iraq...I want to mention first because there are people who say that that never happened. It is commonly said by political philosophers like Maureen Dowd say that the--where were the sweets and where were the flowers. Well I saw it happen with my own eyes and no one's going to tell me that I didn't...I will not allow it not to be said that that did not happen.
I assume Hitchens is telling the truth. But here's an important follow up question, one we should have been asking at the time in April, 2003: who cares?
The strange-but-true reality is that throughout history, whenever one country has invaded another, there have always been some people within the invaded country who've welcomed the invaders. Sometimes it's because they've been oppressed by their own government, are similar ethnically or religiously to the invader, or just know what side their bread is buttered on.
At the same time, those within the invading country who support the invasion have always seized on tales of the welcome they've received and declared it demonstrates the justice of their cause. And this is rarely pure cynicism. Human beings—even (or especially) the worst of them—need to believe they're moral.
Don't believe it? Take a look at these 1941 pictures of Lithuanian women greeting invading Nazi troops with flowers. (They're from the BBC documentary The Nazis: A Warning From History.) Similar scenes occurred during the Nazi invasions of Poland—see here—and the Ukraine.
I don't know who took this footage, but I'd bet a lot of money it was the Nazis themselves, and that they rushed it back home to bolster support for the war. I'd also bet they had a writer with them who returned to Berlin to boast about how he "saw it happen with my own eyes."
Of course, this doesn't mean the United States is Nazi Germany. People also greet troops as liberators when the troops are actually liberating them. It just means having someone greet your army as liberators has no significance whatsoever.
But what about the pictures of the Saddam statue being pulled down? Surely that demonstrated the righteousness of our cause, right?
Sorry.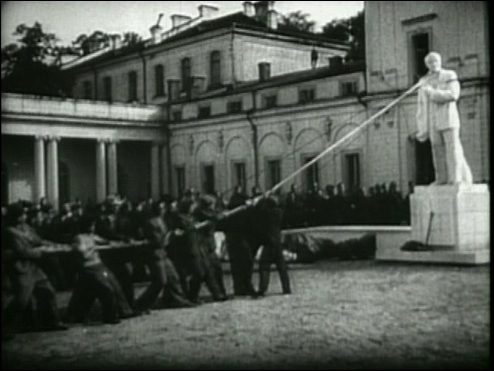 That's also from The Nazis: A Warning from History, and from the invasion of Lithuania. It's probably a statue of Lenin.
A Warning from History was produced in 1998. Part of me wonders if someone from the Bush administration saw it and was inspired. But I'm sure the odd parallels are simply due to the fact there are only so many ways to stage propaganda.
EARLIER: Shaving prisoner beards through history.
(Thanks to Arthur Silber for recommending A Warning from History.)
Posted at November 4, 2007 10:51 PM | TrackBack