You may only read this site if you've purchased
Our Kampf
from
Amazon
or
Powell's
or
me
• • •
"Mike and Jon, Jon and Mike—I've known them both for years, and, clearly, one of them is very funny. As for the other: truly one of the great hangers-on of our time."—Steve Bodow, head writer,
The Daily Show
•
"Who can really judge what's funny? If humor is a subjective medium, then can there be something that is really and truly hilarious? Me. This book."—Daniel Handler, author,
Adverbs
, and personal representative of Lemony Snicket
•
"The good news: I thought
Our Kampf
was consistently hilarious. The bad news: I'm the guy who wrote
Monkeybone
."—Sam Hamm, screenwriter,
Batman
,
Batman Returns
, and
Homecoming
November 03, 2007
Greeted As Liberators
It's hard to tell, but these are pictures of ethnic Germans in western Poland, throwing flowers at the invading Nazi army in September, 1939. They're screengrabs from the BBC series The Nazis: A Warning From History.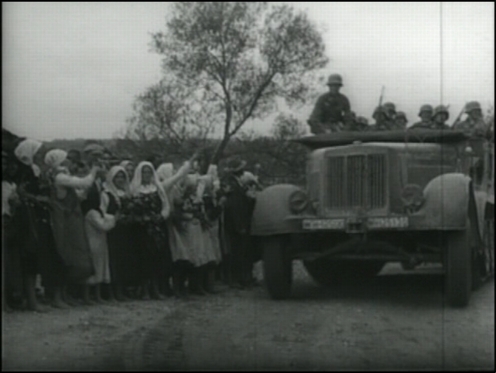 I don't know who took this footage, but I would bet a lot of money it was the Nazis themselves, and that they rushed it back to the home front to demonstrate the extraordinary morality of their cause.
Supposedly many Ukrainians were also quite excited when Germany invaded them, shortly afterward. One odd fact of history is that in every invasion you could find someone in the invaded country who was thrilled about it. Thus, if you're in an invading country, you really shouldn't depend on this as a gauge of whether you're doing the right thing.
Posted at November 3, 2007 05:43 PM | TrackBack