You may only read this site if you've purchased
Our Kampf
from
Amazon
or
Powell's
or
me
• • •
"Mike and Jon, Jon and Mike—I've known them both for years, and, clearly, one of them is very funny. As for the other: truly one of the great hangers-on of our time."—Steve Bodow, head writer,
The Daily Show
•
"Who can really judge what's funny? If humor is a subjective medium, then can there be something that is really and truly hilarious? Me. This book."—Daniel Handler, author,
Adverbs
, and personal representative of Lemony Snicket
•
"The good news: I thought
Our Kampf
was consistently hilarious. The bad news: I'm the guy who wrote
Monkeybone
."—Sam Hamm, screenwriter,
Batman
,
Batman Returns
, and
Homecoming
August 10, 2006
While I Realize It's Extremely Boring, Let's Take A Brief Look At Reality
Apparently there's some kind of batsignal for the U.S. punditocracy that tells them all what to write each week. This week their orders are to inform us that the Democrats had better watch out for those far-left elitists like Ned Lamont, who will with their extreme anti-war positions lead them to defeat just like George McGovern did.
I don't have it in me to track down links to the 10,000 versions of this. But here's a representative sample from David Broder:
The people backing Lamont are nothing if not sincere. But their breed of Democrats -- many of them wealthy, educated, extremely liberal -- often pick candidates who are rejected by the broader public. Many of the older Lamont supporters went straight from Eugene McCarthy and George McGovern in the 1960s and '70s to Howard Dean in 2004. They helped Joe Duffey challenge Sen. Tom Dodd in Connecticut for the 1970 Democratic nomination on the Vietnam War issue, only to lose to Republican Lowell Weicker in November.
This might make you wonder certain things—like, was opposition to Vietnam the "wealthy, educated" position? I know it's fun to listen to stories from Uncle Dave B., and extremely boring to look at reality. But let's give reality a shot just this once. Here's a Gallup poll from January, 1971: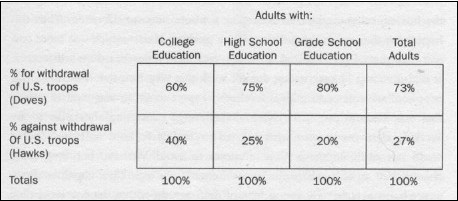 Wha--? This must be some crazy anomaly, right? Everybody knows the far-left, highly-educated elitists hated Vietnam, while the bedrock real Americans hung in there to the end!
Actually, no. Here's James Loewen writing in his book Lies My Teacher Told Me (from which the 1971 Gallup poll is scanned):
These results surprise even some professional social scientists, [but] [s]imilar results were registered again and again, in surveys by Harris, NORC, and others... Throughout our long involvement in Southeast Asia, on issues related to Vietnam, Thailand, Cambodia, or Laos, the grade school-educated were always the most dovish, the college-educated the most hawkish.
Huh. That makes you wonder what equivalent polls are saying about Iraq today. Here's Gallup about six weeks ago: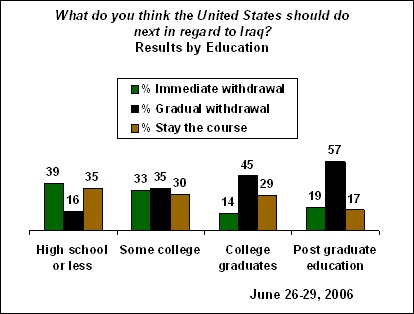 Weirdly, as you see, more education doesn't necessarily push you either way on Iraq. It seems to make you more ambivalent—while those with less education are both the most dovish and the most hawkish, with little ambivalence.
We're almost done with reality here, because I realize it's irritating and makes things less fun at the cocktail party at David Brooks' house in Chevy Chase. But here's a Gallup poll from April of this year on the general foreign policy views of Americans: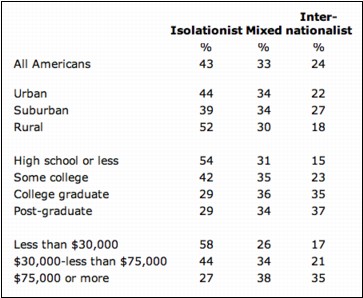 Here the results are absolutely clear: internationalism is the elitist position, while people become more isolationist the less money and education they have. Shockingly enough, whenever Bush inveigles against "isolationism" he doesn't mention that.
Whew! Well, that's enough reality for today. Thank goodness our opinion leaders don't have to trouble themselves with such things, because then they might have to spend more than thirty seconds writing each column.
(I snipped some of the isolationism poll to save space. You can see the entire results here.)
Posted at August 10, 2006 06:43 PM | TrackBack