You may only read this site if you've purchased
Our Kampf
from
Amazon
or
Powell's
or
me
• • •
"Mike and Jon, Jon and Mike—I've known them both for years, and, clearly, one of them is very funny. As for the other: truly one of the great hangers-on of our time."—Steve Bodow, head writer,
The Daily Show
•
"Who can really judge what's funny? If humor is a subjective medium, then can there be something that is really and truly hilarious? Me. This book."—Daniel Handler, author,
Adverbs
, and personal representative of Lemony Snicket
•
"The good news: I thought
Our Kampf
was consistently hilarious. The bad news: I'm the guy who wrote
Monkeybone
."—Sam Hamm, screenwriter,
Batman
,
Batman Returns
, and
Homecoming
August 04, 2006
A Wee Bit Of History
In lieu of cogent thoughts on current events, here's an interesting little shard of history. My grandfather taught at the American University in Beirut in the late twenties. I recently looked through his AU directory from 1929, and came across the below page listing that year's freshmen.
As you see, one is Khadduri Ya'kub Khadduri from Basra. As it turns out, he was the uncle of Imad Khadduri, the Iraqi nuclear physicist who escaped from Iraq in the nineties and spent 2002-3 fruitlessly telling anyone who'd listen that Iraq had no nuclear program. As you might expect, he is...unhappy...about what's happened since then.
There's another interesting aspect to this, specifically regarding some of the place names. But I leave discerning that as an exercise for the reader.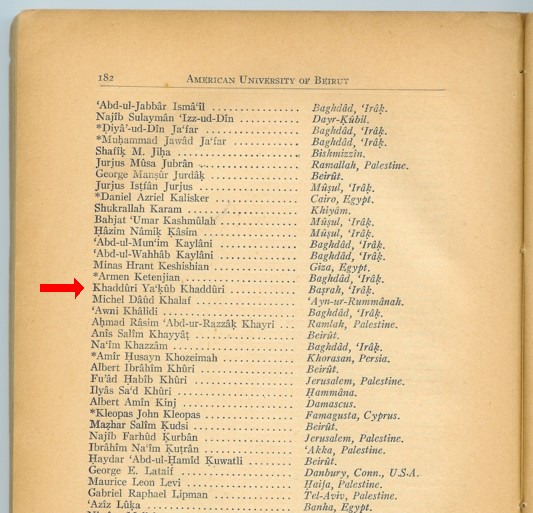 Posted at August 4, 2006 11:24 AM | TrackBack