You may only read this site if you've purchased
Our Kampf
from
Amazon
or
Powell's
or
me
• • •
"Mike and Jon, Jon and Mike—I've known them both for years, and, clearly, one of them is very funny. As for the other: truly one of the great hangers-on of our time."—Steve Bodow, head writer,
The Daily Show
•
"Who can really judge what's funny? If humor is a subjective medium, then can there be something that is really and truly hilarious? Me. This book."—Daniel Handler, author,
Adverbs
, and personal representative of Lemony Snicket
•
"The good news: I thought
Our Kampf
was consistently hilarious. The bad news: I'm the guy who wrote
Monkeybone
."—Sam Hamm, screenwriter,
Batman
,
Batman Returns
, and
Homecoming
May 20, 2010
Oh Perfect
NE mentioned this LA Times story in comments:
Investigators have arrested a Pakistani army major linked to the prime suspect in the botched attempt to bomb New York City's Times Square early this month, Pakistani law enforcement sources said Tuesday.

The major's involvement with suspect Faisal Shahzad, who was arrested at John F. Kennedy International Airport as he attempted to fly to Dubai, United Arab Emirates, remains unclear. Law enforcement sources said the major had met Shahzad, a naturalized U.S. citizen of Pakistani descent, in Islamabad, the capital, and was in cellphone contact with him.

The major's arrest marks the first time someone in Pakistan's military establishment has been directly linked to the case.
Of course, as was pointed out yesterday, we know this Pakistani army major was just a loser, motivated purely by his failure to succeed in U.S. society rather than our foreign policy, so there's nothing to worry about and certainly no reason to change anything we're doing.
PREVIOUSLY: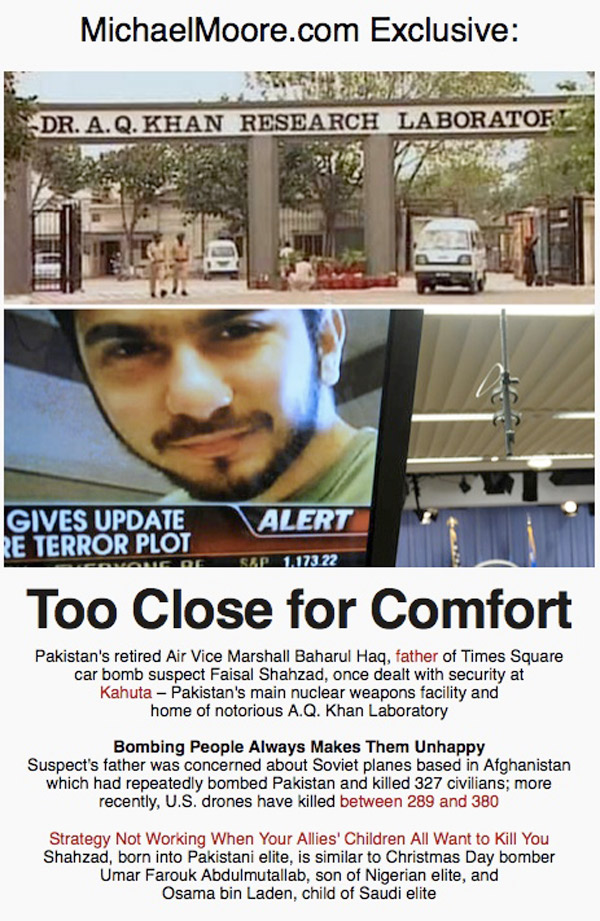 —Jonathan Schwarz
Posted at May 20, 2010 05:19 PM