You may only read this site if you've purchased
Our Kampf
from
Amazon
or
Powell's
or
me
• • •
"Mike and Jon, Jon and Mike—I've known them both for years, and, clearly, one of them is very funny. As for the other: truly one of the great hangers-on of our time."—Steve Bodow, head writer,
The Daily Show
•
"Who can really judge what's funny? If humor is a subjective medium, then can there be something that is really and truly hilarious? Me. This book."—Daniel Handler, author,
Adverbs
, and personal representative of Lemony Snicket
•
"The good news: I thought
Our Kampf
was consistently hilarious. The bad news: I'm the guy who wrote
Monkeybone
."—Sam Hamm, screenwriter,
Batman
,
Batman Returns
, and
Homecoming
May 14, 2010
Late Nite Five Dollar Friday
Explanation of Five Dollar Friday here. Follow who else is giving on twitter. As promised last week, there would either be a website and tumblr ready by now, or someone in my organization would be fired. Someone has been fired (although later rehired and given a final one week extension after a bunch of crying and begging.)
Today's $5 Friday goes to Black Agenda Report, but not because I'm a big copier and am copying Ethan. I thought of it on my own, especially after listening to this Doug Henwood interview with Bruce Dixon, one of the editors there.
If you're familiar with them, you know how good they are. Send them some money, because they need it and deserve it. If not, check them out, find out how good they are, and then send them money.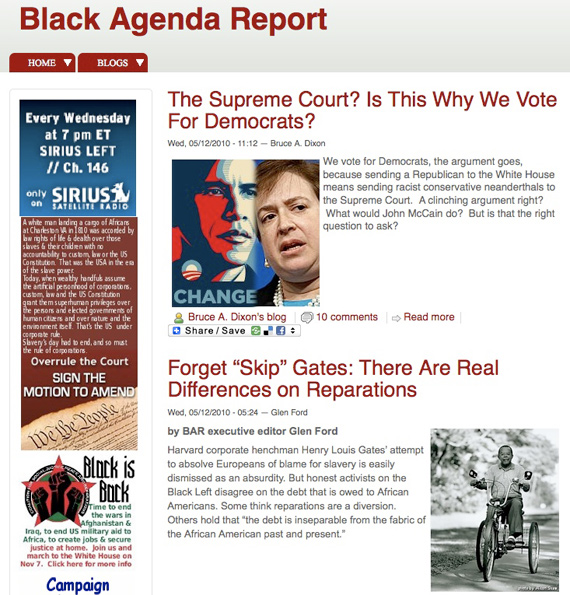 —Jonathan Schwarz
Posted at May 14, 2010 10:39 PM