You may only read this site if you've purchased
Our Kampf
from
Amazon
or
Powell's
or
me
• • •
"Mike and Jon, Jon and Mike—I've known them both for years, and, clearly, one of them is very funny. As for the other: truly one of the great hangers-on of our time."—Steve Bodow, head writer,
The Daily Show
•
"Who can really judge what's funny? If humor is a subjective medium, then can there be something that is really and truly hilarious? Me. This book."—Daniel Handler, author,
Adverbs
, and personal representative of Lemony Snicket
•
"The good news: I thought
Our Kampf
was consistently hilarious. The bad news: I'm the guy who wrote
Monkeybone
."—Sam Hamm, screenwriter,
Batman
,
Batman Returns
, and
Homecoming
December 08, 2009
How the Crock of Shit Gets to Your Breakfast Table
Each morning Rupert Murdoch's media delivers a warm, steaming crock of shit to the world's people. How does it happen? To understand, let's take a look at one particular crock of shit, from September 24, 2002.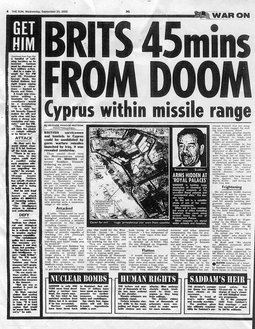 On that day, Murdoch's tabloid The Sun (readership eight million) ran a giant front page headline about Saddam Hussein's terrifying WMD:
HE'S GOT 'EM
LET'S GET HIM
Then on the inside of the paper, the headline was:
BRITS 45mins FROM DOOM
The Sun stories were based on a dossier released by the British government about Saddam Hussein's terrifying WMD. In it Tony Blair stated that "[Saddam's] military planning allows for some of the WMD to be ready within
45 minutes of an order to use them." This was so important the dossier repeated it three more times. That day Blair told parliament that the intelligence the dossier was based on was "extensive, detailed and authoritative."
So what was the ultimate source for this claim? The British media is reporting today it was AN IRAQI TAXI DRIVER. But not just any old Iraqi taxi driver—an Iraqi taxi driver BRITISH INTELLIGENCE OFFICIALS NEVER MET. Here's what happened:
1. MI6 was "squeezing their agents in Iraq for anything at all."
2. The Iraqi National Accord, an exile organization set up with money from the CIA, had hooked up MI6 with a senior Iraqi military officer. This officer claimed he spoke to the taxi driver, and said the taxi driver in turn claimed he'd heard this from OTHER Iraqi officers he'd driven somewhere. So this was completely uncorroborated, third-hand, with a taxi driver in the middle.
3. The Iraqi National Accord's spokesman later described the "45 minute" claim as a "crock of shit."
4. Breakfast time!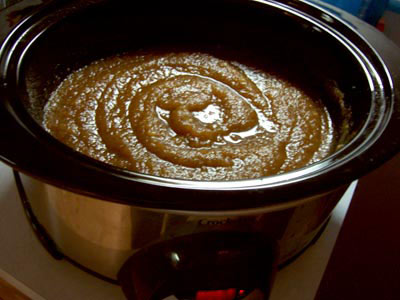 Today—the same day the news broke about the Iraqi taxi driver—Rupert Murdoch wrote this in a Wall Street Journal op-ed:
From the beginning, newspapers have prospered for one reason: the trust that comes from representing their readers' interests and giving them the news that's important to them. That means covering the communities where they live, exposing government or business corruption, and standing up to the rich and powerful.
yummmmmmm
—Jonathan Schwarz
Posted at December 8, 2009 11:05 AM