You may only read this site if you've purchased
Our Kampf
from
Amazon
or
Powell's
or
me
• • •
"Mike and Jon, Jon and Mike—I've known them both for years, and, clearly, one of them is very funny. As for the other: truly one of the great hangers-on of our time."—Steve Bodow, head writer,
The Daily Show
•
"Who can really judge what's funny? If humor is a subjective medium, then can there be something that is really and truly hilarious? Me. This book."—Daniel Handler, author,
Adverbs
, and personal representative of Lemony Snicket
•
"The good news: I thought
Our Kampf
was consistently hilarious. The bad news: I'm the guy who wrote
Monkeybone
."—Sam Hamm, screenwriter,
Batman
,
Batman Returns
, and
Homecoming
May 18, 2009
Fathers, Daughters, And The Rules
This is part of a Los Angeles Times story on the recent U.S. bombing in Afghanistan that killed about 140 people:
Piercing wails rose into the antiseptic-scented air where four blistered and bandaged little girls lay in side-by-side hospital beds. One of them, 5-year-old Ferishteh, writhed and cried almost continuously, unable to find a position that did not cause her pain from the burns that covered her arms, legs and torso.

On the night of May 4, the girls' families, frightened by hours of fierce fighting between insurgents and Afghan and Western troops in and around Garani, had sought shelter, together with dozens of neighbors, in a pair of sprawling compounds belonging to the village's most powerful tribal clans.

After the clashes subsided in the early evening, residents said, many were bedding down by about 8:30, still huddled together in hope of safety.

That, they say, is when the bombs fell...

Nurses and doctors said Nazbibi's father, Saeed Malham, rarely left her bedside...

"When they told me what had happened, I fainted under a tree," he said. Then he rushed home, returning to a village marked by destroyed homes and fresh graves.

The father of the other three girls in the burn unit, Saeed Barakat, was also separated from his wife and children at the time of the bombardment. He had gone to the mosque in the early evening, and then to the home of an elder married daughter to spend the night.

When the alarm was raised, he hurried to the compound where his family had been sleeping. There he encountered a nightmarish landscape of blood-covered rubble and severed limbs. A hand was found in a nearby tree. Only seven of more than 70 people inside were alive, according to Barakat and others interviewed.
And here's Barack Obama, in Sderot, Israel in July, 2008
"If somebody was sending rockets into my house where my two daughters sleep at night, I'm going to do everything in my power to stop that."
How many people have the rockets from Gaza killed? Let's say ten. How many people were killed as Israel did everything in its power to stop that? At least 100 times as many. Thus, according to the rules as articulated by the current president, Afghans may now kill 14,000 Americans.
That may seem like a lot, but fair's fair.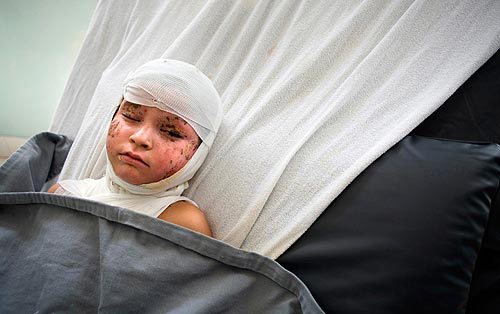 —Jonathan Schwarz
Posted at May 18, 2009 11:45 AM