You may only read this site if you've purchased
Our Kampf
from
Amazon
or
Powell's
or
me
• • •
"Mike and Jon, Jon and Mike—I've known them both for years, and, clearly, one of them is very funny. As for the other: truly one of the great hangers-on of our time."—Steve Bodow, head writer,
The Daily Show
•
"Who can really judge what's funny? If humor is a subjective medium, then can there be something that is really and truly hilarious? Me. This book."—Daniel Handler, author,
Adverbs
, and personal representative of Lemony Snicket
•
"The good news: I thought
Our Kampf
was consistently hilarious. The bad news: I'm the guy who wrote
Monkeybone
."—Sam Hamm, screenwriter,
Batman
,
Batman Returns
, and
Homecoming
December 11, 2006
Clinton Anxious To Assure World He Is Still Scum-Sucking Pig
Here's an excerpt from a speech Bill Clinton gave a few months ago to the United Jewish Communities' Lion of Judah conference in Washington (downloadable here):
...when Mr. Arafat rejected my last peace proposal late in 2000 and the Intifada had begun, it changed a feeling – the attitude that peace was possible because there didn't seem to be any partner for peace anymore. It affected the psychology of the Israeli people, and I think of Jewish people of the world over, and people devoted to the security of Israel the world over. The big question seemed to shift from what the details of a peace plan ought to be to how can we insure Israel's security in what may be a permanently hostile environment.
Elsewhere in the speech, Clinton also refers to "the rejection of my peace proposal by Yasser Arafat" and "the seminal events of Arafat's rejection."
So...is this true? Did Arafat reject Clinton's peace proposal, generally known as the "Clinton parameters," late in 2000? Let's ask the the guy who said this on January 8, 2001:
Both Prime Minister Barak and Chairman Arafat have now accepted these parameters as the basis for further efforts. Both have expressed some reservations.
I'd really like to introduce Clinton to that dude. It shouldn't be too hard to get them in the same place at the same time.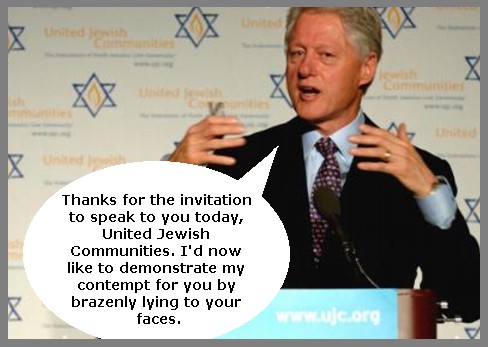 It's hard to overstate how loathsome Clinton's behavior is here. The story told about the Camp David summit in 2000 and the negotiations afterward—that Arafat inexplicably turned down various proposals—did indeed "affect the psychology of the Israeli people, and of Jewish people of the world over." This in turn contributed to the dynamics that made the intifada so vicious, thus helping to cause the deaths of thousands of innocent Palestinians and Israelis.
The problem, of course, is that THAT STORY WAS FALSE. (Details on request.) And there's no one more responsible for spreading these lies than Clinton.
The rest of the speech is Clinton's attempt to make the case Palestinians actually are interested in peace. In other words, he's trying to mitigate the horrendous damage he's done over the past six years with the bullshit fable he's created, while simultaneously bemoaning the fable's effects and telling it all over again.

BONUS CLINTON SCUMMINESS: From The Truth About Camp David by Clayton Swisher:
Saeb Erekat told me what Clinton had told him when the former president was visiting the region in the spring of 2001 and had dinner with Erekat, who asked Clinton why he falsely told the world that Arafat had rejected his parameters. "I was with [Arafat] when he told you 'I accept your parameters with the following reservations and qualifications'!" Erekat exclaimed to Clinton, who sheepishly replied, "I was told if I didn't say this there would not be a peace camp in Israel—that Barak would be over."
Clinton then added, still sheepishly, "I hope you don't mind if I keep on saying this. I just don't think my lies have killed enough people yet."
Posted at December 11, 2006 06:48 AM | TrackBack