You may only read this site if you've purchased
Our Kampf
from
Amazon
or
Powell's
or
me
• • •
"Mike and Jon, Jon and Mike—I've known them both for years, and, clearly, one of them is very funny. As for the other: truly one of the great hangers-on of our time."—Steve Bodow, head writer,
The Daily Show
•
"Who can really judge what's funny? If humor is a subjective medium, then can there be something that is really and truly hilarious? Me. This book."—Daniel Handler, author,
Adverbs
, and personal representative of Lemony Snicket
•
"The good news: I thought
Our Kampf
was consistently hilarious. The bad news: I'm the guy who wrote
Monkeybone
."—Sam Hamm, screenwriter,
Batman
,
Batman Returns
, and
Homecoming
October 14, 2006
Only So Many Ways To Persuade Yourself It's Okay To Kill Others
From a flier warning Shiite families to leave the Ghazaliya district of Baghdad:
In the name of Allah, the most merciful

Subject: Deportation

As a result of the criminal and sectarian behaviour of what is called (the disgraceful) Jaish Al-Mahdi and (the treacherous) Badr forces by killing, kidnapping and deporting the Sunni community (at Mahmoudiya, Rashidiya, Sha'ab, Shu'la and Hurriya), as well as violating the honour of Sunnis and plundering their possessions, the organisation has decided, Inshallah, to return the strike twofold and treat them the same (an eye for an eye and a tooth for a tooth). It has been decided to deport you from Sunni areas, including Ghazaliya, within 24 hours, or otherwise your heads will be cut off, the same as your militias act with members of the Sunni community. He who has warned is henceforth excused.
From a flier warning Shiite families to leave Southern Lebanon:
To the people of Lebanon

Pay attention to these instructions!!

The IDF will intensify its activities and will heavily bomb the entire area from which rockets are being launched against the State of Israel.

Anyone present in these areas is endangering his life!

The State of Israel
From the same Israeli government webpage where the flier appears:
Concern for the lives of civilians is an integral part of the IDF operational procedure, which requires extreme care to be taken to minimize harm to the civilian population -- often at the cost of operational advantages.
Which is which?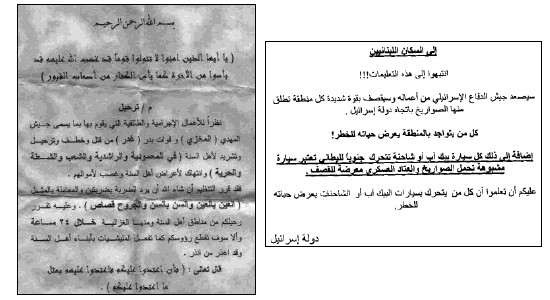 Posted at October 14, 2006 01:36 PM | TrackBack