You may only read this site if you've purchased
Our Kampf
from
Amazon
or
Powell's
or
me
• • •
"Mike and Jon, Jon and Mike—I've known them both for years, and, clearly, one of them is very funny. As for the other: truly one of the great hangers-on of our time."—Steve Bodow, head writer,
The Daily Show
•
"Who can really judge what's funny? If humor is a subjective medium, then can there be something that is really and truly hilarious? Me. This book."—Daniel Handler, author,
Adverbs
, and personal representative of Lemony Snicket
•
"The good news: I thought
Our Kampf
was consistently hilarious. The bad news: I'm the guy who wrote
Monkeybone
."—Sam Hamm, screenwriter,
Batman
,
Batman Returns
, and
Homecoming
August 23, 2006
Why Not?
It always makes me laugh to hear politicians talk about "isolationism":
In [a] 15-minute interview, Mr. Lieberman warned against the United States becoming isolationist...

"Nobody is talking about isolationism," Mr. Lamont said, responding in a telephone interview to Mr. Lieberman's remarks.
I'd like to ask Lamont: why isn't anyone talking about isolationism?
Then I'd like to ask both him and Lieberman: what exactly do you mean when you use this word?
Because whatever Americans think isolationism means, they like it. It's only a dirty word among the wealthiest and best educated. So if we were living in a democracy with the whole one-person one-vote thing, you'd expect SOMEBODY would be talking about isolationism.
How do Americans identify their foreign policy philosophy? (Gallup)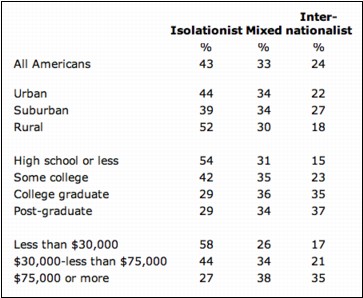 Posted at August 23, 2006 11:26 AM | TrackBack