You may only read this site if you've purchased
Our Kampf
from
Amazon
or
Powell's
or
me
• • •
"Mike and Jon, Jon and Mike—I've known them both for years, and, clearly, one of them is very funny. As for the other: truly one of the great hangers-on of our time."—Steve Bodow, head writer,
The Daily Show
•
"Who can really judge what's funny? If humor is a subjective medium, then can there be something that is really and truly hilarious? Me. This book."—Daniel Handler, author,
Adverbs
, and personal representative of Lemony Snicket
•
"The good news: I thought
Our Kampf
was consistently hilarious. The bad news: I'm the guy who wrote
Monkeybone
."—Sam Hamm, screenwriter,
Batman
,
Batman Returns
, and
Homecoming
August 22, 2006
Americans! Save Your Freedom And Your Lives!
Sometimes I get depressed when I think about the 12 zillion crazy people there are in America today. But then I remember there have ALWAYS been 12 zillion crazy people in America.
For instance, Hamilton Fish III. Fish, who lived to be 102 (1888-1991), was a longtime congressman and frothing lunatic. Before the 1980 election, he wrote the below book, called Americans: Save Your Freedom And Your Lives! I just found it in a box of old stuff. Here's a representative sample:
"I have written this book so that the people might know the truth which has been deliberately kept from them by the Carter Administration for the past three years. The main issue is the survival of the American people and our own country...There is no substitute for the truth to enable you to act in your own defense, before you are led as sheep to the slaughter in a Soviet holocaust."
Also:
• The Soviet Defense is Thirty Times Stronger Than Ours
• Trilateralism and the Panama Canal
• What Is A Conspiracy
• An Appeal to the Blacks to Return to the Party of Abraham Lincoln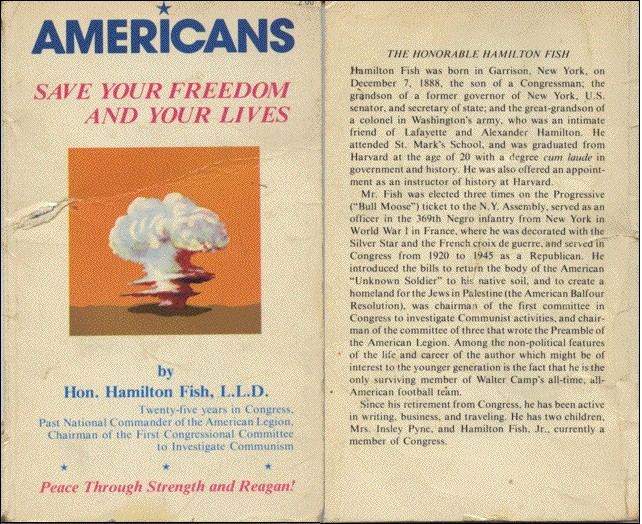 BONUS CRAZY: Note that Fish was involved in the founding of the American Legion after World War I. Who are the American Legion? Well, they're many things. From the George Seldes Reader:
In an interview in January 1923, Commander-in-Chief Alvin Owsley of the American Legion not only endorsed Mussolini and Fascism, but announced his readiness to do what the Duce did...

"If ever needed," he said, "the American Legion stands ready to protect our country's institutions and ideals as the Fascisti dealt with the destructionists who menaced Italy...Do not forget that the Fascisti are to Italy what the American Legion is to the United States."
And here's something dug up by Billmon about them in the present day.
And here's Dick Cheney last February addressing their annual conference:
I am grateful to all of you for defending our country yesterday, and for standing behind our military today.
Posted at August 22, 2006 02:53 PM | TrackBack