You may only read this site if you've purchased
Our Kampf
from
Amazon
or
Powell's
or
me
• • •
"Mike and Jon, Jon and Mike—I've known them both for years, and, clearly, one of them is very funny. As for the other: truly one of the great hangers-on of our time."—Steve Bodow, head writer,
The Daily Show
•
"Who can really judge what's funny? If humor is a subjective medium, then can there be something that is really and truly hilarious? Me. This book."—Daniel Handler, author,
Adverbs
, and personal representative of Lemony Snicket
•
"The good news: I thought
Our Kampf
was consistently hilarious. The bad news: I'm the guy who wrote
Monkeybone
."—Sam Hamm, screenwriter,
Batman
,
Batman Returns
, and
Homecoming
July 22, 2006
Filthy Armenian-Lover Chris Floyd Finally Pays The Price For Supporting The Dirty Armenians
For too long Chris Floyd has been able to get away with his hysterical apologetics for the genocidal raping Armenians. True, I can't remember him ever mentioning Armenia or Armenians, but that doesn't mean he isn't the world's #1 supporter of the Armenian dogs in their conspiracy to enslave humanity.
Thus, I'm pleased to see his site has been hijacked by "macriti," who's been an anti-Armenian freedom fighter since way back. I've taken a screenshot, below, but please pay a visit yourself so you can see the price that will be paid by ALL those who collaborate with the Armenian pig-apes.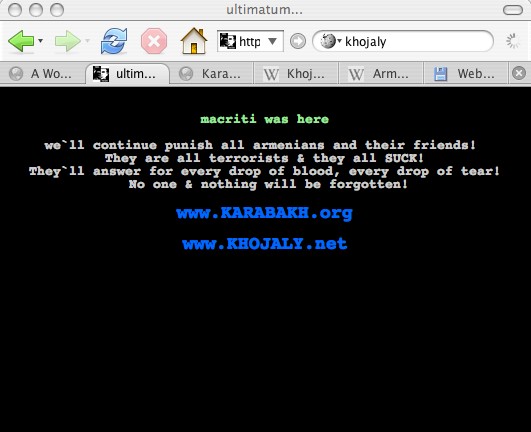 Posted at July 22, 2006 06:21 AM | TrackBack