You may only read this site if you've purchased
Our Kampf
from
Amazon
or
Powell's
or
me
• • •
"Mike and Jon, Jon and Mike—I've known them both for years, and, clearly, one of them is very funny. As for the other: truly one of the great hangers-on of our time."—Steve Bodow, head writer,
The Daily Show
•
"Who can really judge what's funny? If humor is a subjective medium, then can there be something that is really and truly hilarious? Me. This book."—Daniel Handler, author,
Adverbs
, and personal representative of Lemony Snicket
•
"The good news: I thought
Our Kampf
was consistently hilarious. The bad news: I'm the guy who wrote
Monkeybone
."—Sam Hamm, screenwriter,
Batman
,
Batman Returns
, and
Homecoming
July 18, 2006
Emily Litella Speaks Out On The Situation In The Middle East
Your heart just has to break to see these Shiite children in Lebanon smiling and writing "messages" on the rockets that soon will devastate Israeli homes. What kind of sick society produces little girls who exult in the infliction of pain against people they've never met?
And look at the woman in the background, presumably their mother—clearly she approves! Sadly, until the Arabs let go of their culture of incitement and rage, I'm afraid there's no concession Israel can ever make that will bring peace with these people.
What's that?
Those aren't Lebanese girls writing on Hezbollah rockets, but Israeli girls writing on Israeli shells?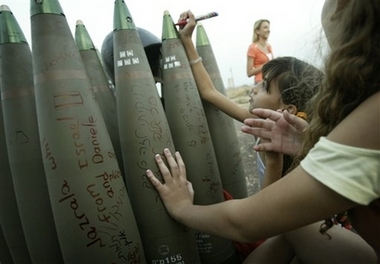 Oh.
Never mind.
Posted at July 18, 2006 12:07 PM | TrackBack