You may only read this site if you've purchased
Our Kampf
from
Amazon
or
Powell's
or
me
• • •
"Mike and Jon, Jon and Mike—I've known them both for years, and, clearly, one of them is very funny. As for the other: truly one of the great hangers-on of our time."—Steve Bodow, head writer,
The Daily Show
•
"Who can really judge what's funny? If humor is a subjective medium, then can there be something that is really and truly hilarious? Me. This book."—Daniel Handler, author,
Adverbs
, and personal representative of Lemony Snicket
•
"The good news: I thought
Our Kampf
was consistently hilarious. The bad news: I'm the guy who wrote
Monkeybone
."—Sam Hamm, screenwriter,
Batman
,
Batman Returns
, and
Homecoming
June 14, 2006
Fighting "The Good Fight" Apparently Doesn't Involve Hiring A Fact Checker
I know an embarrassing amount about the Iraq/WMD story. Hopefully I'll never learn this much about any other political issue. If I do, I hope someone will have the decency to (1) tell me I've wasted my life and (2) shoot me.
One side effect of knowing all this crap is I'm acutely aware of the precise way in which every claim made by war proponents was inaccurate. I mean that literally: every claim. Moreover, I don't mean in hindsight, I mean based on what was known at the time.
Sometimes their claims were 20% false, sometimes 80% false, and sometimes 100% false. But they never once got things 100% right. And curiously enough, every "error" always fell in the same direction, that of making their case appear stronger.
With that in mind, it's useful to examine more of Peter Beinart's interview with Kevin Drum (reg. req.):
BEINART: ...there is a bit of a tendency sometimes amongst liberals to think that because George W. Bush has hyped this so much that it's mostly hype. If you look at the Lugar poll, which I cite in the book, Senator Richard Lugar, who is not an ideologue, gets together all these non-proliferation types and basically says what are the chances we're going to be hit with a weapon of mass destruction attack in the next ten years? They say 70 percent. He says what are the chances we are going to be hit with a nuclear attack? They say 30 percent. And 80 percent say it is most likely that one of those will come from a terrorist group. And these are not people who are on Karl Rove's payroll.
I thought this sounded interesting, so I read the Lugar survey (pdf) myself. And it turns out Beinart's characterization of it is in shouting distance of reality. But what he said certainly isn't 100% accurate. Moreover, every error falls in the same direction: that of making Beinart's case appear stronger.
Let's take a look!
1. "...these are not people who are on Karl Rove's payroll"
Untrue.
Lugar received responses from 85 people; they're listed on page 4. At least one, Robert Joseph, is literally on Rove's payroll as a high-level Bush appointee. Joseph is a notorious hardliner who was on the National Security Council for four years before replacing John Bolton as Under Secretary of State for Arms Control and International Security. Joseph supervised the section on Iraq's WMD in the 2003 State of the Union, and was responsible for the uranium-from-Africa claim.
Quite a few others inhabit the Bush administration's Dr. Strangelove-flavored penumbra. There's Richard Allen, who's on the Defense Advisory Board; Frank Carlucci, of the Carlyle Group and Project for a New American Century; and James Woolsey, Patrick Clawson, Reuel Marc Gerecht and Fred Ikle, all well-known for their role with PNAC and similar places. Still more are on the standard conservative gravy train, such as Richard W. Fisher, Vice-Chairman of Kissinger McLarty Associates.
The rest are mostly Council on Foreign Relations-style centrists, with a smattering of genuine liberals.
An accurate way to express this would have been: "While a significant minority are on Karl Rove's payroll, figuratively and otherwise, the majority are not."
2. "[Lugar asked] what are the chances we are going to be hit with a nuclear attack?"
Untrue.
Lugar didn't ask specifically about a nuclear attack on America. The question was this: "In your opinion, what is the probability (expressed as a percentage) of an attack involving a nuclear explosion occurring somewhere in the world in the next 10 years?"
Of course, a nuclear attack on anyone would be very bad for America, as well as everyone else. But there's still a significant difference between what Beinart claimed and what the respondents actually were saying.
(Note that by "we" Beinart definitely does mean America. He says that explicitly when he mentions the poll in his book.)
An accurate way to express this would have been simply to quote the actual question.
3. "They say 30 percent"
Not exactly.
The survey reports both the median and the average of the responses. Beinart is right that the average is 30% (well, 29.2%). However, the median is lower, at 20%.
An accurate way to express this would have been to give both measures, particularly since there were a cluster of very high responses (see below).
4. "80 percent say it is most likely that one of those will come from a terrorist group"
True.
Question #6 on page 15 is "In your opinion, if a nuclear attack occurs during the next 10 years, is it more likely to be carried out by terrorists or by a government?" 79% said terrorists, 21% said a government.
SO WHAT DOES THIS ALL MEAN?
I certainly don't think it invalidates Beinart's point. Even if the respondents are overestimating the chances of a nuclear terrorist attack—which you might expect from people in their line of work no matter where they fall on the political spectrum—it's something to be taken very seriously, since the consequences would be so catastrophic. Besides all the dead people, we can be certain such an attack anywhere on earth would essentially kill democracy everywhere for the next 100 years or so.
BUT NEVERTHELESS
This really, really irritates me.
A) I hate this kind of corner-cutting on principle. But it's particularly inexcusable when, like Beinart, you're being paid $600,000 for it. (He supposedly got that for a two book deal including The Good Fight.) At those rates you can afford to include actual accuracy.
B) When you're criticizing people for believing something is "mostly hype," it's polite not to hype it.
C) Most importantly, as I said a million words ago, Beinart et al did exactly this kind of thing regarding Iraq. You'd think he couldn't continue doing it now and still live with himself. Fortunately, every graduate of Stutts University like Beinart undergoes highly toxic chemotherapy to kill their sense of shame.
Whew! Well, that was something no one on earth but me will be interested in. But if on the off chance you're dropping in from Mars and want to dig deeper, the relevant page from the survey is below.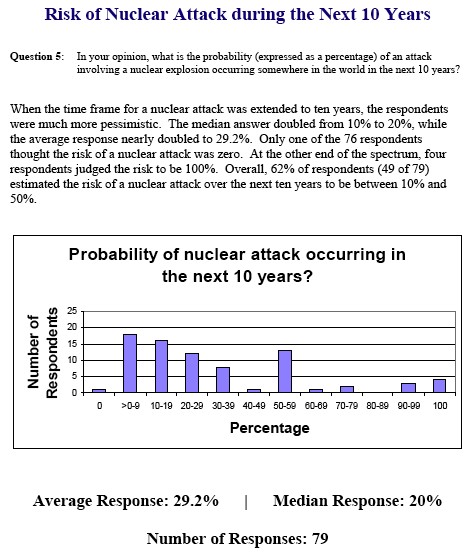 Posted at June 14, 2006 07:28 AM | TrackBack