You may only read this site if you've purchased
Our Kampf
from
Amazon
or
Powell's
or
me
• • •
"Mike and Jon, Jon and Mike—I've known them both for years, and, clearly, one of them is very funny. As for the other: truly one of the great hangers-on of our time."—Steve Bodow, head writer,
The Daily Show
•
"Who can really judge what's funny? If humor is a subjective medium, then can there be something that is really and truly hilarious? Me. This book."—Daniel Handler, author,
Adverbs
, and personal representative of Lemony Snicket
•
"The good news: I thought
Our Kampf
was consistently hilarious. The bad news: I'm the guy who wrote
Monkeybone
."—Sam Hamm, screenwriter,
Batman
,
Batman Returns
, and
Homecoming
November 12, 2005
There's Always Room to Become More Petty
There is nothing nothing nothing more boring and petty than the personal sniping that makes up 98% of writing about politics. Who's more morally beautiful than whom? Who's issued the correct thunderous denunciations of others for having or not having signed the correct meaningless petition at the correct meaningless time? This is particularly prevalent among groups without power, making it so pointless and grimly silly you despair for all humanity.
However, just because it's boring and petty doesn't mean I won't participate in it. So, let's get started!
Back in October, 2002 Christopher Hitchens was given space in the Washington Post to explain that the International Action Center is a "sinister sect" and "quasi-Stalinist." This was deeply significant to Hitchens because the IAC played a role in organizing anti-Iraq war protests.
Now, for all I know the IAC is sinister and quasi-Stalinist. But if it is, I will never find out, because if I'm ever on the verge of learning that much about fringe political groups I will commit suicide.
The reason I bring it up is because I was just watching The Trials of Henry Kissinger—largely based on an excellent book by Hitchens—and was amused to see this sequence:
Here's Hitchens, being interviewed outside of a hotel where Henry Kissinger is making an appearance.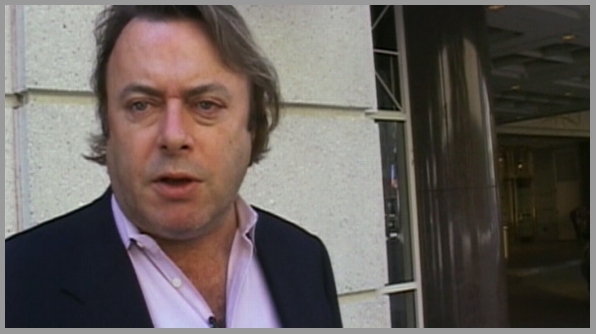 Hitchens is joined on the sidewalk by a group protesting Kissinger. Here we see him enthusiastically taking some of the group's literature. Everyone in the group has the same yellow signs.
I wonder who this group is that cares so much about the things Hitchens cares about? Let's take a closer look at these signs...
WAIT A MINUTE, WHAT DOES THAT SAY ON THE BOTTOM?!?!
So, there you have it: FINAL PROOF that, because the International Action Center criticizes Henry Kissinger, all criticism of Henry Kissinger is illegitimate. Also, Christopher Hitchens luvs the people who luv Saddam which means Christopher Hitchens luvs Saddam!!!!!
I am so smart and my enemies are so so stupid!!!!!!!!!!!!!!!!!
...hey, where'd everybody go?
Posted at November 12, 2005 08:28 AM | TrackBack